Pay-Per-Click (PPC), Paid Search, Remarketing and Social
In Search Engine Marketing (SEM), the goal is to develop and increase your company's presence on search engine result pages (SERPs). SEM is a unique and highly utilized marketing avenue as it allows business owners to target potential customers at multiple points in the buying cycle.
You can target highly motivated consumers looking to purchase today as well as those consumers who may still be doing their research and likely buy tomorrow. Whether you are looking to start a new program or grow an existing one, Tessera Marketing has the expertise to help you grow.. By utilizing Paid Search along with best practices in Search Engine Optimization (SEO) we can increase your presence, your online traffic and your bottom line.
Paid Search is all about the details. Although it is relatively easy to launch a campaign, creating and managing a successful campaign is much more complicated. We will work with you to develop the most profitable terms, ads and placements for advertising. Within a relatively short period of time we can get you up and running on all the top tier Search Engines including Google, Bing and Yahoo and many smaller engines such as Ask and AOL.
Search Engine Optimization
SEO is often referred to as the free way to improve your ranking in SERPs. It is the process of developing a strong, strategic, search engine friendly website and online presence for your company. A solid SEO strategy is essential for long term viability. We will work with you to clearly define your long term goals and determine how those can be incorporated into your online presence via website copy, layout and visibility.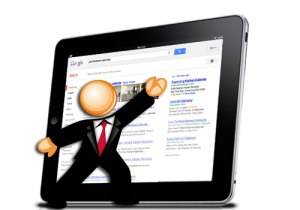 Getting started is quick & easy
Speak to our expert Search Engine Marketing team.
Give us a call and we'll have a casual conversation to learn a bit more about your business, the types of customers you are targeting, and the actions you want them to take when visiting your site.